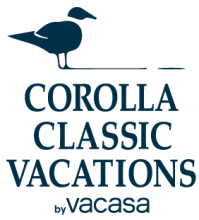 With more than 215 properties available for rent, Corolla Classic Vacations in Corolla, NC is a perfect place to start browsing for your Outer Banks vacation rental. Our properties range from four to twelve bedrooms, and most of them are very close to the beach.
Working with our knowledgeable staff of vacation specialists means that you're getting the best view, amenities and floor plan for your family, so even if you prefer to plan your vacations online, you're still able to get in touch with someone who is familiar with the properties. On top of striving to rent only the best properties in the northern part of the Outer Banks, Corolla Classic Vacations offers over 80 pet-friendly rentals and many homes that are available for weddings and special events. Most have private pools, and some have elevators and access to community amenities.
Contact us or visit our website to find your perfect Outer Banks vacation rental. Our properties and owners are carefully selected and we specialize in personalized customer service. We appreciate the opportunity to take care of you, and your friends and family.