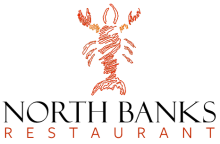 Whether you're looking to dig into a classic Outer Banks seafood dinner or raise a glass over an upscale platter of lobster and filet mignon, North Banks Restaurant is the place for both. Our restaurant, located in the Timbuck II Shopping Village is open from 11:30 a.m. to 9 p.m. every day in season. If you want seafood, we have you covered with preparations in all varieties: appetizers, sandwiches, platters, steamed, seared, broiled, fried – however you want it, we can do it. Our raw bar has shrimp, lobsters, clams, oysters and crab legs. Enjoy it simple style or try it in the form of entrees like seared tuna and creative fusions, such as snapper banh mi. Just as popular as our surf dishes are the turf entrees, and you can enjoy pork chops, steaks or a mixed grill if you can't decide between land and sea.
Our full bar can whip up the beverage that your heart desires. If you want to enjoy a snack or small plate while you're hanging out, our bar menu quiets rumbling stomachs in the long hours between lunch and dinner. We offer snacks, small plates, meat and cheese boards, flatbreads and handheld bites.
Take a break during your shopping trip at our Outer Banks seafood restaurant or join us for the NFL Sunday Ticket or MLB Package. Join us for lunch, dinner and anything in between.