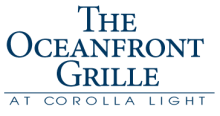 Great food with a spectacular view and relaxed atmosphere, delivered to you with a friendly smile.
The Oceanfront Grille at Corolla Light is the only oceanfront restaurant on the Currituck Outer Banks. Opened in 1993, it is a casual family restaurant with poolside and beach service. The menu pairs dinner entrees of mixed grill and seafood (including their signature crabcakes!) offering the opportunity to try multiple menu items. Portion sizes are generous and never lacking in taste. Children's options also available. 
Call (252) 453-4748 for reservations, which are encouraged due to limited seating on the elevated deck. Parking is located in the gravel lot beside the Corolla Light basketball courts. Signs suggest parking permits are needed but are not necessary for restaurant guests after 5 p.m. The Oceanfront Grille is located up the stairs on the top pool deck.
Eat, drink and enjoy the oceanfront view!